Neo-Nazis (A rapist and a molester of young girls) Operate Freely On Facebook (JEWBOOK), Hate and Death Threats Allowed
CLICK HERE for article on Native News Network about what JEWBOOK allowed!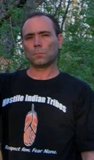 Lee White Horse who's real name is Jason Lee Armonjo is on the left. He brutally raped a 14 year old girl on the Pine Ridge Indian Reservation.
Roy Robertson Lombardo is on the right. He was in prison for sexually molesting young girls. READ BELOW FOR DETAILS ABOUT!
LEE WHITEHORSE HAS SEVERAL FB PROFILES

1) KOKIPA WHITEHORSE
2) AKICITA WHITEHORSE
3) LAKOTA WARRIOR NATION
4) LAKOTA AKICITA OYATE
5) 100,000 NATIVES

ROY ROBERTSON HAS SEVERAL AND ONE IS ACCUALLY AN OLDER LADY
1) DAKOTA THUNDER
2) IVANNA TSAGI DREAMKEEPER
3) VINCENZO DOMENICO LOMBARDO
4) 100,000 NATIVES UNITED REP IT
5) DAKOTA ROY THUNDER
6) DAKOTA WHITEHORSE
MEDIA ALERT!


Operation Morning Star and Richard Boyden is being slandered and threatened with death on Facebook and elsewhere by two Neo-Nazis, one who raped a 14 year old Native American girl on the Pine Ridge Indian Reservation and the other who is a convicted sexual molester. Both are haters of Jews. They "pose" as Native American but in fact are non-Native White men who have been denounced by Native Media and the Oglala Sioux Tribe on the Pine Ridge Indian Reservation. That reservation is where Whitehorse brutally raped a 14 year old girl (see below).
A little about me. I lived in Israel in 1972...on kibbutz Mishmar Hasheron near Netanya. My college room mate in 1973 was an Israeli who was going to college at Shoreline Community College in Seattle when the "73 War" broke out. He came back from the war to find his "American Jewish wife" had divorced him and thrown all his belongings out in the street. Aria Luria was his name (spelling off am sure). He was on the Israeli Olympic team specializing in the "butterfly stroke".
As a radio talk show host in Kansas City, I put the ONLY Jewish radio program on air on KCXL 1140 AM... hosted by an Israeli Shula Romano Horing. She came to the America, married a Jewish lawyer Michael Horing. Both are lawyers. Personally I interviewed "Holocaust Survivors" such as a local resident, the late Sam Nussbaum. I share this because this is "Public Information" and the Neo-Nazi's below have taken this information and have targeted me with "death threats" and LIES as shared below. My grandfather, a Zickler, was a secular Jew and personally, other then a "spiritual affiliation" and historical empathy, I do not qualify as being a Jew. But to the Jew haters, just being involved and informed, qualifies one as being a Jew to hate and kill.
Below you will read a Jew hating diatribe and death threat against me from Roy Robertson/Lombardo...WARNING...BELOW IS THE VERY FILTHY LANGUAGE DEATH THREAT THAT IS UNSUBSTANTIATED (FBI INCLUDED) PURE SLANDER!
I can be contacted at richard_boyden2000@yahoo.com for those who have any questions etc. 605-939-1703 I have my own FACEBOOK PAGE while there are others with my photo posted with lies and threats etc.
Robertson lives in Ephrata PA... where in that state a Nazi group of youth recently terrorized a Jewish Youth Camp! I find it a "coincidence" that the name of one of the "Jew hating terrorists" also had as a last name "Robertson".
NOTE: My two Jew hating enemies have a history of changing their names. The question should be asked why? Jason Lee Armajo became Lee Whitehorse. Roy Lombardo became Roy Robertson... then became "Indian" as did Armajo. To possibly hide their past as sexually molesters? Robertson was in prison just for that crime. Read why sexual molesters change their name...CLICK HERE!
Whitehorse lives in the Denver area...Wanted for questioning by the FBI for making "death threats" according to Bob Perry...FBI Agent In Charge...Rapid City. To divert attention from the "fake Indian Identities" and crimes against...they have created slanderous "FAKEBOOK" pages for me and others who have exposed who they really are. The pages they have created for others and myself say we are sexual deviants, molesters, rapists, etc...or...exactly what they have done as documented to young women. Perry has stated I am not wanted for ANY of the "slander statements" made by the Neo-Nazi's. And in 17 years of working among American Indians, I have never been accused of such UNTIL these two started their diabolical agenda against me.
THIS LINK is the Operation Morning Star web page which speaks for the work I have done among Native Americans. I put together a 'sponsorship/adoption program" that matches non-Natives with Natives in need. Monies were sent to the grocery stores etc. in the name of the Native Elder or Family. Call Sioux Nations, Lakota Plains Propane...ask them about Operation Morning Star and how it helped those in need.
It is all good though... as Bob Perry FBI said...he is aware of their agenda. Any questions about the lies about me...call him. LIE DETECTOR TEST in the ready. One of their "quotes" from the "fake page"! Lies and more lies....their spiritual DNA


Warning !!! Richard "DICK"BOYden....DOCUMENTED, several restraining orders and protection orders issued at both Pine Ridge Reservation & Rosebud Reservation for his conduct and harrassment against women...floated of Rosebud for the same and to not return....
What WAS floated off" the Rosebud Sioux Tribe Reservation was a "working to help Native youth" radio program addressing suicide and this by the Catholic Church after one week of success. Nothing from ANY Tribal government. I personally have taken 500 tons of truck loads of food and wood burning stoves to the Rosebud, Pine Ridge, Crow Creek, and they Cheyenne River Sioux Tribe reservations.
I have spoken at and have a letter of thanks from the detention center on Rosebud for helping the youth. Same with the boarding school there. Want a copy anyone? Here is what I was doing and what the Catholic Church "floated off the rez"! And here is the article titled Journey to the Spirit World by Suicide I wrote about suicide...over 10000 copies given out on Pine Ridge, Rosebud, Crow Creek, and Cheyenne River Reservations.
It was published in the Lakota Country Times
The Oglala Sioux Tribe issued this statement about the "Hostile Indian Tribe" which Neo-Nazi's Whitehorse and Robertson lead. READ/CLICK HERE!
This is a PETITION from a FULL BLOODED OGLALA LAKOTA NATIVE AMERICAN named James Swan that these thug criminals were doing the same thing to. They have a "slander/mocking page" for him also!
This is from James Swan...FULL BLOODED OGLALA LAKOTA!
"This group of "on-line thugs" have harassed many face book people and groups as well as taken over group pages, creating fake profiles of other people, excessive use of foul language, discrimination in every way. They even have the attention of the media, law enforcement including Federal agencies for there actions on-line."
CLICK HERE TO READ MORE and HERE TO READ STATEMENTS OF VICTIMS THESE "NO BLOOD" WANNABE NEO NAZI'S HATE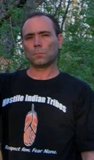 WARNING! Filthy language death threat below posted on Facebook by a Jew Hating Hating Neo Nazi named Roy Robertson/Roy Lombardo!


THIS DEATH THREAT IS ON THE "FACEBOOK SERVER" WHICH CAN BE VERIFIED!
RICHARD BOYDEN. AN ENEMY OF THE LAKOTA. NOTHINGMORE THAN A JEW PIECE OF SHIT!!!!! YOU'LL NEVER BE LAKOTA RICHARD, NEVER!!!! YOU'RE A SICK FUCK WHO PREYS ON THE HOMELESS N BATTERED WOMAN OF LAKOTA COUNTRY!!!
FUCKING JEW SCUM, YOUR DAYS ARE NUMBERED,BET ON THAT!!
FUCK THIS FACEBOOK BULLSHIT, I GET A LEAD ON YOU N YOU'RE A FUCKING CORPSE!!!!
THEN WE'LL SEE HOW MUCH YOU LIKE TO WAG YOUR MOUTH YOU JEW MOTHER FUCKER!!"!
And Robertson, an animated pile of demon dung...was in PRISON FOR MOLESTION YOUR GIRS!
DAKOTA THUNDER or ROY ROBERTSON!
Fact is, I have only fed and helped Lakota people. Never been accused of any of these lies by Lakota...only by a Jew Hating Nazi! The FBI has NO charges of ANYTHING against me in contrast to the fact Robertson/Lombardo was sent to prison for molesting your girls! Anyone want to contact the FBI? I have their number...Bob Perry...Agent in Charge...Rapid City South Dakota!
Below is the "Nazi ?) company where Robertson works and lives with his wife Vicky Fry and her parents. Just in case anyone wants to contact him or have him arrested for anti-Semitic death threats as well as checking to see if a "felon" is in possession of any guns.
Hybrid Poplars - Alternative Energy Source
300 Frysville Road - Ephrata, PA 17522
Phone (717)-354-4501 or TOLL FREE! (800) 422-3797
Rapist and Neo-Nazi Jason Lee Whitehorse
The below information revealing the truth about Lee Whitehorse (Jason Lee Amarjo) and Roy Robertson/Lombardo is from Lisa Janelle, a Native American Lakota woman that she posted on Facebook and which I "saved".
WARNING...language a bit GRAPHIC but then again...she is "outing" two evil men to the max so I copied and pasted her information just as it is...in it's revealing form
LISA JANELL
Lee Whitehorse sorry excuse for a man. And one that claims to be Lakota and helping so many children.
You help no one except for the one's that put money in your pathetic pocket. Standing there looking like you are gods gift to woman.
Then why rape a 14 year old child?

You disgusting PIG !
These Lakota warriors , the real Lakota warriors should cut off your tiny little dick and shove it down your throat in front of her
and then tie you up to a tree and whip the shit out of you for as many hours as you raped that poor girl.
Wasn't Cante (his fornicating companion) good enough for you? Or maybe just a tad bit loose for your liking?
There is vagina exercising you can do to tighten up that vagina so that your boyfriend will leave these children alone.
Please do your part and learn the exercise, look at how many girls you could save if only you will do the work.
Now Janell's sharing about Roy the Neo-Nazi Robertson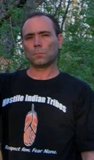 Lisa Janelle

So Roy Macho Robertson. From Ephrata Pa. You like picking on my niece.
Well let's now pick on you. How's that sound? Should we share about the two lighting bolts tattooed on your leg ?
So now you use Red Thunder name to try and say that's what it stands for. We know better. I may live here but I have friends on and off the reservations.
And boy oh boy do they have some tales to tell about you. My niece has done nothing to harm anyone. She is a full blood.
You are a no blood trying to play indian. Very sad that your life is so bad that you have to pick on people on the internet.
Should we tell about your days in prison. Yes my nephew was there.
You were a bitch. So you thought you could run to the and join the whites. They even pushed you away. You are a pussy. was then and always will be.
And why people may ask, where you in prison?
Child molestation is why.
Because Roy Robertson likes to play with teenage girls.
Your children's name is Lombardo, why is that?
Their mother's names are different and different mothers, so if they have two different mothers, same father and same last name of LOMBARDO well I would think that is daddys last name too.
What you hiding from Roy or stevie or omg I don't know. Would the real you please stand up!!
Now I see why the name change. But you respect animals so much Roy
www.largeanimalprotectionsociety.org
The mission of the Large Animal Protection Society is to stop cruelty to large animals in Southeastern Pennsylvania.

Roy you should have NEVER picked on my niece Because now YOU will remember her for the rest of your life!
MORE TO WHITEHORSE
Lee come on, you big stud muffin. you little twinkie winky. literally . Be my friend. Don't go away mad. you might hurt your girly friend or the girl you stole claiming to be her father. She's not as white as you though.
Roy are you still my friend? Roy NO don't run, please stay ! I enjoy your threats and down grading, It actually turns me on. OH HOLD UP WAIT A MINUTE, I know what the problem is, I'M NOT A TEENAGER ! right? Well I can dress up in my cheerleader outfit, will that help? and bleach my skin, just like cante! the weave through, I don't need one, My hair goes all the way down my back. I don't have to sew it on every day. whoops my bad, every other day.
Now please threaten me. I am looking forward to it. Now why do you have to report my page? Are you scared of me? Little ol me? I will and can take all of you on, ALL OF YOU PATHETIC TWINKIES!


Look at the tan line around his forehead. Mr Whitehorse why do you have to tan? Your whiteness shines so much on the puny face of yours. WHOOOOOOOOOOOOOO ! Isn't that what all of you and your but buddies say?
WHITE TRASH LOOKING WANNABE !
We should call call call ! Let this family know that we are not going to take it anymore. NO MORE ABUSE FROM ROY ROBERTSON. no wait a minute, ROY WHITEHORSE, no, ROY LOMBARDO, no, shit give me a minute and i'll figure it out.
Your address and all ROY ROBERTSON, STEVIE, WHITEHORSE.


Hybrid Poplars - Alternative Energy Source

300 Frysville Road - Ephrata, PA 17522

Phone (717)-354-4501 or TOLL FREE! (800) 422-3797

Alternative Energy Source, Shade Trees, Hybrid Poplars, Greenhouse, Wreaths, Christmas Trees and more!
AND THEN THERE IS THIS INFORMATION I RECIEVED FROM ANOTHER NATIVE AMERICAN WOMEN ABOUT THE TWO NEO-NAZI'S.
This information is from another Native Woman with information about the Hostile Indian Tribe and JASON LEE ARMARJO OR LEE WHITEHORSE!!!!
"SO YOU WANT TO KNOW WHO "HIT" IS?" (The Hostile Indian Tribe)


WELL WHERE DO I START? "HIT" IS A HATEFUL GROUP OF 40 SOMETHING YEAR OLDS IMMUTURE BULLIES.
STARTED WITH A PERSON WHO ALWAYS BEEN HATEFUL AND VIOLENT "JASON LEE AMARJO" WHO WAS INSPIRED BY A NATIVE AMERICAN CHARACTER IN A BOOK AND SINCE CHANGED HIS NAME TO "LEE WHITE HORSE".
HE SEXUALLY ASSAULTED A 14 YEAR OLD GIRL ON THE PINE RIDGE INDIAN RESERVATON WHICH IS WHY HE DOES NOT LIVE THERE. HE LIVES IN COLORADO.
AND HIS GIRLFRIEND "LASHAE YOUNG" ANOTHER VIOLENT AND HATEFUL PERSON.

TOGETHER THEY ARE A BALL OF HATE AND IGNORANCE AND TEACH IT TO THEIR OWN CHILDREN, THEY JOIN FORCES WITH "ROY ROBERTSON" A POOR EXCUSE OF A MAN, WHO USES VIOLENCE AS A WAY TO HANDLE SITUATIONS.
TOGETHER THESE THREE INDIVIDUALS PROMOTE HATE,VIOLENCE AND BULLYING.
ALL THREE HAVE PERSONAL IDENTITY CRISIS AS THEY WISH TO BE NATIVE MAINLY LAKOTA! LASHAE MIGHT POSSIBLY HAVE ONE PARENT WHO IS NATIVE BUT THERE IS NO SUCH EVIDENCE FOR LEE OR ROY, WHO LOOK LIKE THE AVERAGE WHITE MAN.

HIT WHICH STANDS FOR "HOSTILE INDIAN TRIBES" SEEKS TO RECRUIT LIKEWISE PERSONS WHO FEEL POWERFUL BY CYBERBULLING AND THREATS OF VIOLENCE AND HATE SPEECH.

THEY PREY UPON THE WEAK MINDED AND VUNERABLE.
HIT TOOK OVER A GROUP CALLED "OGLALA LAKOTA NATION" WHERE THEY STARTED THEIR HATE CAMPAIGNE. HIT THREATENED MEN, WOMEN, CHILDREN AND LAKOTA ELDERS. THEY CALL WOMEN CUNTS AND WHORES!
EVENTUALLY THE OGLALA LAKOTA TRIBE STEPPED IN AND DENOUNCED "HIT"LEE, LASHAE AND ROY HAVE MANY DIFFERENT PAGES WHERE THEY RECRUIT MEMBERS AND SPREADS THEIR HATE FOR THE WHITEMAN, CAUCASIANS, EUROPEAN ECT. AND ALL THOSE WHO CLAIM TO BE NATIVE BUT ACCORDING TO HIT, THEY DO NOT "LOOK" NATIVE ENOUGH. THEY THEMSELVES LOOK NOTHING NATIVE BY THEIR OWN GUIDELINES, LEE AND ROY LOOK LIKE YOUR TYPICAL WHITEMAN, LASHAE LOOKS MORE BLACK THAN NATIVE.
LEE WHITEHORSE HAS SEVERAL FB PROFILES

1) KOKIPA WHITEHORSE

2) AKICITA WHITEHORSE
3) LAKOTA WARRIOR NATION
4) LAKOTA AKICITA OYATE
5) 100,000 NATIVES



ROY ROBERTSON HAS SEVERAL AND ONE IS ACCUALLY AN OLDER LADY
1) DAKOTA THUNDER

2) IVANNA TSAGI DREAMKEEPER

3) VINCENZO DOMENICO LOMBARDO
4) 100,000 NATIVES UNITED REP IT
5) DAKOTA ROY THUNDER

6) DAKOTA WHITEHORSE

HE ALSO CLAIMS TO BE THE "REAL" CRAZY HORSE!!! NUT CASE FOR SURE!
LASHAE YOUNG, 1/2 BLACK...EBONICS NAME...WHO HAS 2 YOUNG SONS AND 2 STEP-KIDS WITH LEE WHITE HORSE, HAS MANY PERSONALITIES AS WELL.

1) CANTE LUTA

2) LAKOTA LADEE

3) I LIKE BIG NATIVE DICKS ( WHICH WAS TAKEN DOWN BECAUSE OF THE SEXUAL EXPLICIT MATERIAL)
Here is one example by a Native American Musician also circulated the lies about me by these Neo-Nazi's. His name is Gray Wolf who is a friend of the Neo-Nazi sexual molesters. Named GRAY WOLF...a homosexual Native!
Another Liar, Slanderer and Hater of Richard Boyden...Oglala Lakota Felon Autumn Conroy Two Bulls
Mug Shot of Felon Two Bulls
This woman and FAKE INDIAN is a liar and thief who steals from her own people...forgery, grand theft, identity theft...yeppers...this is a woman that has over 5000 friends/supporters on Facebook, many of whom are GULLIBLE WHITES. Truth is she is a RACIST and HATER OF WHITES...especially when she is caught in her LIES...say by Richard Boyden!
She is is disgrace to the Oglala Lakota people and a shame to the Spirit of Crazy Horse. What IS interesting is how her supporters will believe LIES about me and still uphold her!
Autumns father Cornell Conroy Sr, set up a FRAUDULENT WEB PAGE for Autumn stating she was in jail and needed $10,000.00 CASH BOND TO GET OUT. I called the jail in Martin..this was a LIE among others she and her family propagate to GET MONIES FOR SELFISH USE! But...stupid WHITE PEOPLE SENT MONIES...how much? Who knows...who cares either! This includes one of her many organizations called HELP..."Helping Every Lakota Person"...again...WHERE DOES THE MONIES GO WHITE PEOPLE!?????
Theresa Two Bulls, is former Tribal Chairwoman of the Oglala Sioux Tribe and is a liar, thief of her own people as well as an accomplice in the distribution of cocaine on the Pine Ridge Indian Reservation with her SON!
Here is just a sample of HER SICKNESS and lies! As if a Viet Nam Veteran would even "utter" such evil or even consider it. Below reveals the degenerate spirit that she is. She posted that info on FACEBOOK...slandered me. Of course I said...LIE DETECTOR TEST ANYONE? Of course not...want to confront me anyone in a court of law? NOPE.
Reason why she targeted me was because! I told the truth about her and the TWO BULLS FAMILY of thieves, scammers, and liars...AND KILLERS which includes to the cover-up of the murder of Delema Sits Poor...last seen in 1974 with Pansy Two Bulls...body never found.
Case investigated by TWO BULLS COPS...so the TRUTH about her being raped and murdered was also covered up. Yep...the Two Bulls Family of LIARS don't like me...especially NOW!
HERE ARE THE LIES OF AUTUMN...GO FIGURE...BUT...STUPID IS...STUPID DOES...CONTINUE TO SUPPORT THE LIKES OF FAKE INDIANS LIKE HER AND HER FRIENDS AND FAMILY...AFTER ALL...THEY ARE THE "POOR OF PINE RIDGE"...USING GULLIBLE GOOD HEARTED WHITES WHO BELIEVE THIS SCAMMER!
Autumn TwoBulls Somebody needs to put a stop to Richard Boyden. His harrasment against women is still going on. He's making death threats and stalking women. Someone who thinks such terrible things about the Lakota Oyate wants to help us? Where's there Akichita To Protect us women!!!
Autumn TwoBulls

This man has threatened many women in my family and says terrible things openly on his FB page about the Two Bulls Women and how we protect bad people. It's insane that he would talk so bad about the Lakota Oayte and sladder our Tribal Chair people and talk bad about a people who have been oppressed?...And stalk women and say their pictures are soft porn. What kind of man is this?...He brings innocent people into his sickness and is using my friend fern red owl names...it sad

2 minutes ago
Fern Red Owl, her daughter Lita and son Cato. They live just north of the community of Kyle on the Pine Ridge Indian Reservation. They were the first recipients of a new "donated/purchased" CZ Infrared Heater on 11-24-09! Thank you Kathy from Kansas City!
Fern stated that her new CZ Infrared™ heater radiates heat to every area of her kitchen, living room area, and down the hall to other areas unlike the other heaters she has used. Her estimated cost savings using this heater as compared to other heaters will be 50% less. With the CZ Infrared™ heater, energy used amounts to $40-75 a month compared to over $150 or more a month up to $250 for electrical energy costs plus propane costs.
Fern Red Owl was given a $600.00 heater and $400 or more in groceries...UNTIL she sided with Autumn TwoBulls LIES!

The above comes off the Operation Morning Star web page.
Raven Skye WinterHawk...another slandering harlot in White flesh!
Who is NOT who she says she is or seen as...say A FAKE WHITE WOMAN POSING ON FACEBOOK AS AN INDIAN.
CLICK HERE TO KNOW WHO SHE REALLY IS !
This fake pathological liar from hell embraced and passed around every lie of The Two Bulls "family" and friends including Phyllis DeSersa and Miriam Morrison to everyone on her friend list on Facebook!
Joseph A. Mathis
Raven Skye, I would like to have you forward the emails to me if you still wish to do so. I would like to see them. Maybe I can do something. Somebody has to!
a few seconds ago
THIS SOUNDS LIKE A DEATH THREAT!
Autumn TwoBulls "boyfriend" JAMES did call me and threaten to kill me though!
Phyllis DeSersa
Friends and relatives of Autumn Two Bulls include Phyllis DeSersa...the full time liar and drunk who received $150 a month in groceries for two years through the Operation Morning Star sponsorship program. When I found out she was SELLING/TRADING the food for BOOZE, I cut her off. She is a close BUDDY of Autumn...both consummate LIARS. DeSersa is seen above HOARDING items at the Potato Creek Christmas "giveaway on wheels" complements of Operation Morning Star... which she sold for more BOOZE money!
White Mouse
Then she and her Siamese evil twin and cousin, Miram Morrison White Mouse, proceeded to spread LIES I was "paying the Conquering Bear Sisters for sex" in Wanblee etc. The whole Morrison clan jumped on this band wagon. They even went to the Tribal Council to "banish me" from the rez, police department...in a sick pathological evil frenzy they did everything they could to make my life miserable even though DeSersa's 3 daughters and White Mouse's youngest tried to kill themselves! Such good Lakota mothers! White Mouse even told me DeSersa's "man" Rodney Torkelson had sex with DeSersa's daughters. He even assaulted me and threatened to kill me.
But Two Bulls has no problem with the fact the "medicine man" Eric Cross was arrested and charged with sexually molesting...having sex with...Autumn TwoBulls nieces...one 14 and the other 15. This did not even go federal to my knowledge and TwoBulls goes after me............... for what????????????? But never says ONE WORD about Cross...go figure! My source of information???? Say AUTUMN TWOBULLS HERSELF! He has now been charged by the Feds.
Never mind they received a 26' truck load of 15 TONS of food and gifts during Christmas of 08 and 20 thousand dollars in NEW wood burning stoves, all for their communities of Wanblee and Potato Creek!
These pathological LIARS helped subvert my suicide work at the jail, detention center, and on KILI radio on Pine Ridge and with the help of he daughter of Amanda Takes War Bonne Jennifer. Then the supervisors of the Jail and Detention Center, the Reddist sisters allowed for the filing of "official complaint" against me even though they were LIES. DeSersa is a multiple arrested drunk and drug user.
How EVIL are DeSersa and Morrison?????????? Say evil enough to "stage" a Rapid City Journal article using an Elder named Roland Morrison Jr. to "collect monies/donations" by LYING about this man had no transportation to get food etc. So when WHITES responded to help, THEY KEEP EVERY THING FOR THEMSELVES AND GAVE HIM NOTHING!
Remember, they are good friends of Autumn Conroy TwoBulls!